Basically, we help our clients regain control of their time, their space, and their lives.  As experienced and trained professionals, we've seen situations like yours before and can help you articulate your goals, create a plan, and then work side-by-side with you to complete your projects. 
The National Association of Productivity and Organizing Professionals (NAPO) has been recognized as the organizing authority for over 20 years and NAPO members are bound by a Code of Ethics. In addition, as a NAPO-New England member,  we have monthly Continuing Education opportunities available, share best practices, benefit from a mentoring program, as well as offer a network of trusted peers and affiliated businesses. These resources allow NAPO and NAPO New England members the resources to provide quality, knowledgeable and consistent service to our clients.
Getting started on an organizing project can be daunting so the first step is to call me at 617-240-7451 or email me at lisa@yourorganizedlife.biz so we can talk about your project.  From there, we'll schedule an onsite visit so we can meet and discuss your goals and timeline and review your space.  When you decide to move forward, we'll schedule organizing sessions that work for your calendar.  Generally, we book in 3-4 hour blocks so that we have enough time to be productive.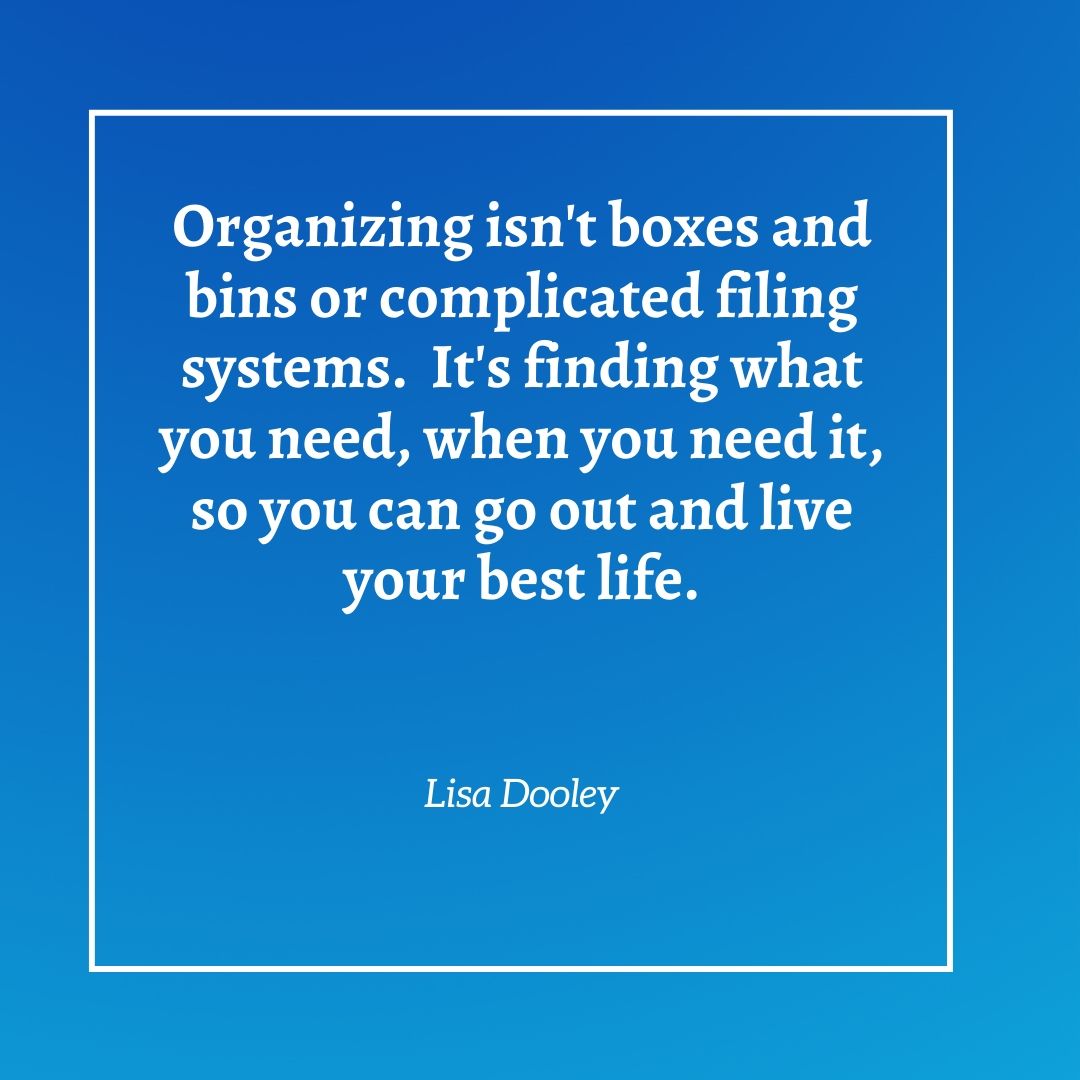 Nope.  It's important that we both review the space as it's actually being used so we can decide what's working and what's not.
Please don't buy anything before we start working on your project.  Boxes, bins and other storage are products, not systems or solutions.  Our goal is to use existing space and containers whenever possible before recommending additional purchases.
Like snowflakes, every organizing project is unique. Check out my blog on how to estimate costs for organizing.  The more complex the project, the more time and cost can be expected.  My hourly rates vary, depending on location and scope of the project, from $90 to $150 per hour.
Organizing is a process, not an event.  Your space didn't get cluttered overnight and it won't be resolved overnight.  Having said that, after reviewing your situation, we can provide you with a working timeframe to complete your project.  Caveat – organizing is about making decisions.  If you make decisions quickly, the project will more forward more quickly.  If decision making is more challenging for you, expect the process to take longer.  You alone are in control of this. 
Yes.  I carry both personal and professional liability insurance. A certificate of insurance can be provided upon request.   Be sure any professional organizer you work with has insurance for their benefit and yours.
Allowing someone into your home or business is a sign of utmost trust.  Your Organized Life offers a full confidentiality agreement on all projects.  We will never discuss you or your project with anyone.  Any content used for marketing will have your prior approval and will never display anything that can identify you.  Also, there is no marketing signage on my vehicle so you can be assured of confidentiality when we are working together.
Organizing is a very one-to-one process and requires a strong partnership between client and organizer.  It's really important to vet any organizer to find the right fit.  My role is to:
Continue to motivate you to stay focused
Provide you with resources to help you complete your project
Communicate effectively on all aspects of our work together. As the author of More Space. More Time. More Joy!  Organizing Your Best Life, I share a decade of expertise and knowledge with my clients
Provide feedback and coaching through the process